What are the Different Types of Carpal Tunnel Release?
Do you have carpal tunnel syndrome?
While it is important to be properly evaluated and diagnosed by a fellowship trained upper extremity specialist such as Dr. Nelson, symptoms of carpal tunnel syndrome include numbness and tingling in the thumb, index, and middle finger, "shaking out" of the hands either at night or during the day, pain, cramping or weakness of the hands, dropping objects, and frequently being awoken by the symptoms.
If you do have carpal tunnel syndrome, chances are if your symptoms are bad enough, you will benefit immensely from carpal tunnel release. When treated with carpal tunnel release in a timely manner, your sensation will improve, your strength will likely improve, your sleep will improve, and your overall quality of life will improve.
But there are different ways of performing carpal tunnel release.
Traditionally, carpal tunnel release was performed in an open fashion. This means that an incision is made over the base of your palm that is 1 to 2 inches in length, and through this incision, your surgeon will release the tight tissues that are pressing on the nerve in your wrist. While this is a time tested approach, this method is more painful and requires increased healing time after surgery. The incision usually requires sutures, there will be redness and bruising, and more soreness around the area of the surgery. If you do heavier things either at home or at work with your hands, it may take more time, even up to 6 weeks, to get back to work and activities that require gripping and lifting.
From the standpoint of early healing, endoscopic carpal tunnel release has fixed some of
these early healing problems. Endoscopic carpal tunnel release is performed through a very small incision at the end of your wrist, not on the palm, and does not require an incision over the palm skin. While final outcome and patient satisfaction is the same compared to open release after 3 months, endoscopic release helps patients to get back to full activities, gripping, lifting and working much sooner with less pain, stiffness, scarring, and soreness after the surgery.
But wait, it gets better!
Recently, new techniques have become available to perform carpal tunnel release without anesthesia, under ultrasound guidance through a very tiny "poke" incision in the wrist. This procedure has been termed "micro-invasive CTR," and soon will be offered by Dr. Nelson.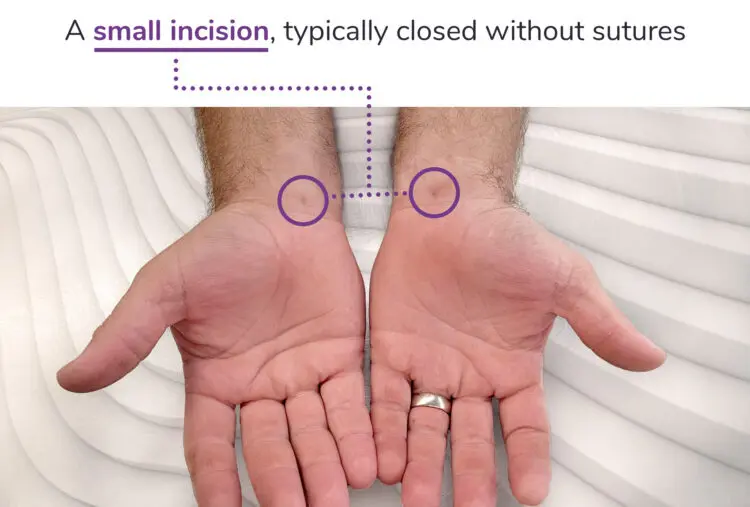 A large percentage of the American population has carpal tunnel syndrome, and many of those patients have moderate to severe carpal tunnel syndrome. Unfortunately, many patients avoid carpal tunnel release because they feel they do not have the time to heal after surgery or they are afraid of the soreness and pain that is part of the healing process.
Micro-invasive CTR under ultrasound guidance is a new answer for these patients. This procedure does not require anesthesia, it does not require a tourniquet, and eventually it will be offered in the office setting, even on the same day that you see Dr. Nelson to talk about your symptoms and confirm your diagnosis.
Do you or someone you know or love suffer from carpal tunnel symptoms? Make a visit to see Dr. Johnny Nelson today to discuss your diagnosis and her treatment options. Microinvasive CTR may be the right treatment for you!